GLENNGLIONDRACH, [Gaelic "happy valley"] fl. A. S. XIII-XIX

In A. S. XIII Percival de Toulouse traveled south from the barony of the North Woods in the Middle Kingdom northwest along the Riparia Mississippia in the region of Northsheild. The next April he was joined by Elan of Dragonstryst (so called because she lived within earshot of the yards where dragons noisily coupled). They were soon joined by Percival's friend, Moira nic Raghailligh, and Elanís fiancé.
Lady Elan and her new husband however soon moved west to the barony of Three Mountains in the principality of An Tir. There she attended the University of Ithra and received her award of arms in XIV, of willows (proficiency in the peaceful arts) in XXVII and of purple fret (for service to group, office or kingdom) in XXX.
In May XV some from the shire -- including the Elizabethan Lavinia -- attended the Midrealm Crown Tourny hosted by the founding baron and baroness of Nordskogen, Michel d'Belgique and Armandel Nightsinger nic de'Ath. Moira however soon moved to the far southeast to Trimaris.
Over the next year members of the shire were also the guests of honor at a feast by Alixe Pfau von Herscheid, the founding baroness of Castel Rouge, and attended an SCA wedding and reception in the barony of Nordskogen. Percival and Gilran reluctantly put on a mock fight for the premier of the Arthurian movie, "Excalibur" and about as unlike it as could be.
Percival's device was accepted in November XVI, "per fess indented azure and gules, a wyvern passant or", and the shire's device in July XVIII, "azure unicorn rampant argent with laurel wreath or within bordure argent." and in August he hosted -- along with Lady Mae C'mell -- its first official event, "Beginnings", accompanied by Hugh of Paddington, confessor to Deare Abbey and the proxy for Lord Sparticus de Belgique, the baronial heir, who could not attend.
Percival however also had to move on, returning via Three Hills to the Northwoods where he learned that Merowald de Sylveaston had kindly put Glengliondrach [sic] on his map. Merowald's consort, Kirsten von der Walde, had come from what had previously been known only as the Endless Wasteland, and popularized the warning, "Here there be uffda." From there he travelled to Fenix on the Riparia Ohiona.

That left Barbara of Boleyn, Aldeyh Korwin and Gilran of Caer Antum. Gilran was awarded the order of the purple fret July 3, XXIII and of the silver oak (proficiency in science or research) May 5, XXV.

The incipient shire was also featured on a map published in
Northwatch
in XIX, but alas it did not last -- the victim presumably of the dreaded uffda -- but it was succeeded by the hardier Vikings of
Korsväg
, which by XXX had grown enough to host the coronation of Prince Conn and Kassandra of Nordskogen.
.
portion of map of the Known World, copyright 1980 by Merald
Merowald
Clark
illuminated by Percival de Toulouse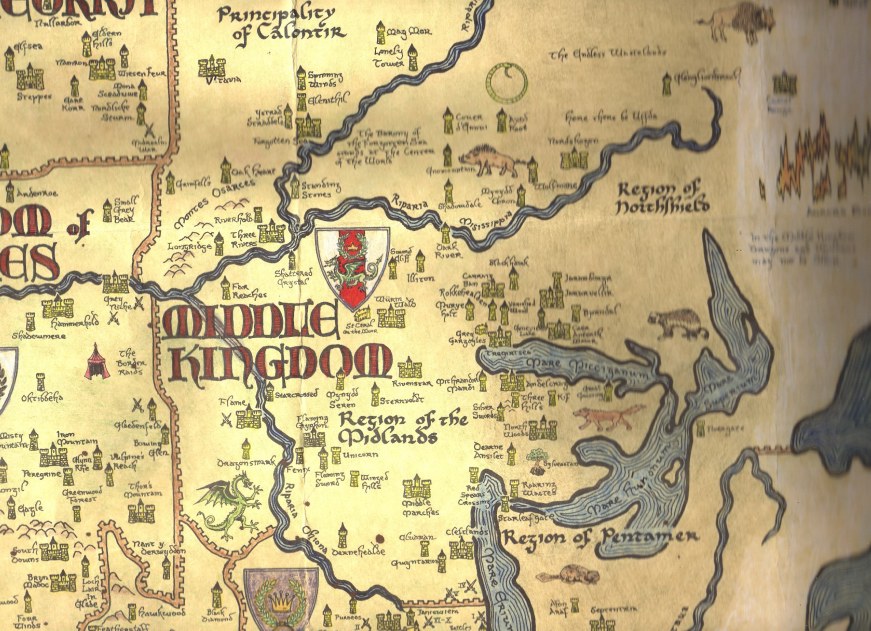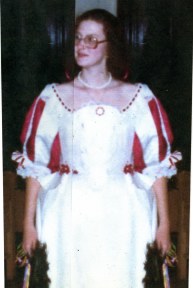 Percival Elan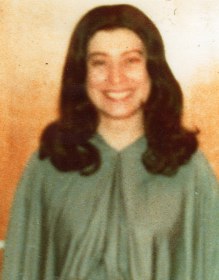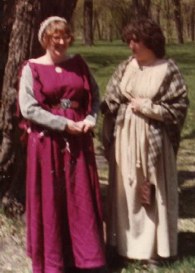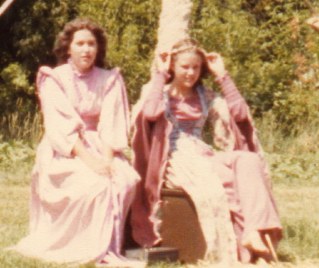 Moira Barbara and Aldeyh ladies of Trollwood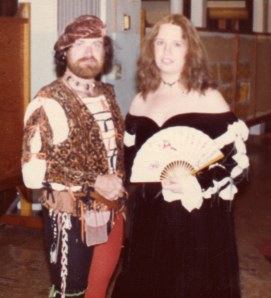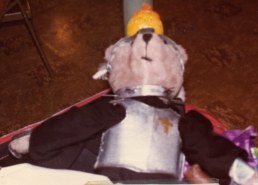 baron and baroness heir's proxy Hugh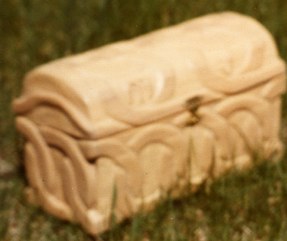 a cake commemorating the storming of Lady Elan's castle Celtic knotwork box carved by Percival
(note red caped suitor climbing vine)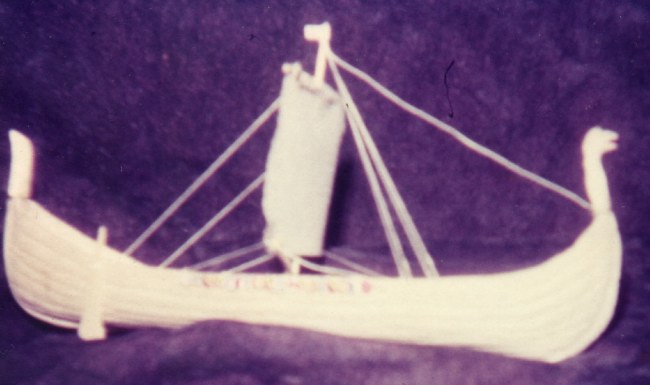 Viking ship model carved by Percival
(shields on side spelled out "Glenngliondrach" in anachronistic flag code)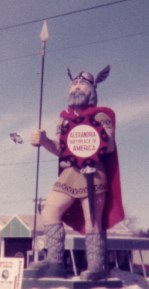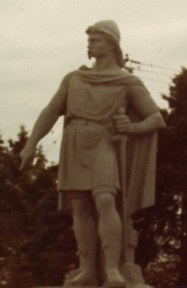 one of the uffdas: Alexandria Viking "Dig the latrine here!"
Rennaisance Fair
cancell because of snow
-- May 5th!